Equipment to Loan
Return to the main News Page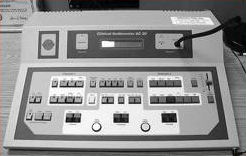 This equipment has literally been all over the world, from the Dominican Republic to Albania to Nigeria to Guatemala and back to the U.S.!
We also have small, telephone-booth style testing rooms (no assembly required!) for established audiology programs. Two corner-style standard testing rooms are available as well, but will require re-assembly on site.
Please contact the ComCare office to discuss availability and shipping.